Obi-Wan Finale - The Loop
Play Sound
Animal Yokocho is a popular Manga that was created by Ryō Maekawa in 1999, and is currently ongoing.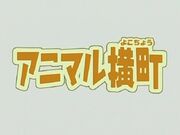 On October 4, 2005, the Manga was made into an Anime, and ended September, 26, 2006, with a total of 102 episodes. Then in 2008, the Anime was dubbed into English and was entitled, Aniyoko: My Next Door Neighbor. It was aired on Cartoon Network Phillippines, and it is not known if it will be aired in the United States.
Plot
[
]
The story begins when five-year-old Ami moves into her new home with her Mama and Papa. Ami helps her parents unpack when she sees Iyo the rabbit. Ami thinks that Iyo is a stuffed animal. Then Kenta the bear walks into the room, and trips. Ami thinks that Kenta is a stuffed animal, too. Ami's parents ask her to move a bucket that's on the floor. Then Issa the panda takes the bucket for Ami, and sets it down. Ami runs to tell her parents, but when she shows them, Iyo, Issa, and Kenta are gone. So Ami goes up to her room to unpack her things, and she finds the Gate to Aniyoko. She's about to open the gate, but Kenta opens the door, which knocks Ami over to another part of the room. Ami sees Iyo, Issa, and Kenta walking and talking, so Iyo, Issa, and Kenta introduces themselves to Ami, and the tell her about Aniyoko. There are many strange adventures ahead for Ami with Iyo, Issa, and Kenta.